'
Xactly Corp
Unleashing insights and tools for a personalised virtual experience
Xactly Unleashed is the largest gathering of global sales, finance, revenue, operations, and compensation professionals, virtually… How do you build on an already successful virtual event, adding tangible value to the delegates as well as the brand?
The Brief
Overview
Unleashed Virtual 2021 brought together innovative thought leaders and key experts to discuss how organisations need to compete in an evolving economic landscape, plan for an uncertain future, and embrace intelligent revenue performance. 
The event provided delegates insights and tools to succeed in sales, alongside it being a platform for Xactly to introduce its latest capabilities and technology roadmap.
The need
Xactly Corp wanted to build upon the success of their current virtual Unleashed platform.
With a reduced timeframe, we were appointed to add value, with the objective to increase engagement and improve immersion throughout to provide a more memorable experience.
Our challenge
We were challenged to create an experience that would accelerate Xactly Corps existing pipeline – improving the quality and speed of conversions. Also to design an event that educates participants and the industry, whilst cutting through the noise with an impactful experience unmatched by Xactly's competition.
The concept
The client had been frustrated with the lack of flexibility and creativity of their previous virtual events, so it was imperative our concept didn't feel templated, so we recreated a digital space to mimic that which delegates would usually attend physically, providing personalised agendas to to enhance the experience.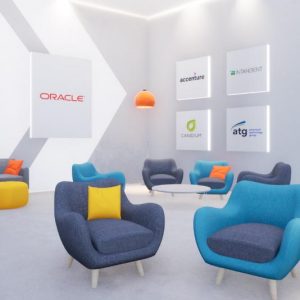 Our solution
Our bespoke solution was developed to a tight deadline, Combining 3D environments and fully managed content with Bizzabo's API to facilitate the event streaming. Delegates were not only able to customise their agenda, but download helpful resources and take part in competitions and network within the wider 'Unleashed' community.
What we did
We wanted to provide more than just another webinar, ensuring gamification and supporting information were framed in an immersive environment, that echoed the physical experience, but adding value via a personalised experience providing relevant information at the users fingertips.
Secure access via logins utilising the Bizzabo event platform

Live and personalised event agenda

Incentivised site exploration via gamification
Community and networking areas 

VIP content

Live chat function and help desk support
User-generated content, voting and feedback

Interactive live sessions followed by Q&A's

Pre-recorded video content and resource content

Full engagement analytics reporting
Results
Xactly Unleashed 2021 was more than just a webinar. It allowed more professionals to experience Unleashed than ever before and exceeded industry benchmarks for virtual events in this sector.
The Xactly team couldn't have been more pleased with how our Unleashed Virtual event turned out this year. We received tons of positive feedback on how cool, engaging, and unique our virtual experience was.
Demand Generation Manager
Xactly Corporation